The term 'cluster apartment' refers to shared accommodation, where people typically have their own private bedroom, but have shared communal facilities such as kitchens.
Cluster apartments are perfect for those who want to rent with friends or make new friends. You have the best of both worlds – a sense of community, but your own space. It is also a more economical way of living as rents are typically lower for clustered living compared to renting your own space.
Our cluster student apartments provide you with a home from home, in central Sheffield, close to all the amenities and within a short walk of both Universities.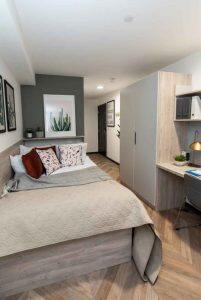 We provide you with your own private space:
– Small double bed/ en-suite
– Private Study area
– Storage space
– Fast Wi-Fi
And shared areas for dining, cooking, socialising:
– Eating area
– Cooking
– Fast Wi-Fi
Visit our showroom at
Sheffield Steelworks Show flat:
Apartments BLG01 to B702
Steelworks
29 Rockingham Street
Sheffield
S1 4WB.
#Foregahead
#steelworks
#keepingitsteel